Know Allahabad Bank Balance Check by SMS, missed call, Net and mobile banking and passbook. Allahabad bank account balance at indianbank.in
Allahabad Bank Balance Check
On April 1, 2020. Allahabad bank got merged with Indian bank. Indian Bank is one of the top banks in India. Allahabad bank provides a lot of banking services to customers. Now, we will mostly focus on bank balance enquiry. Customers has many ways to check balance. Allahabad Bank provides different facilities like Net banking, Mobile banking, etc. Customers can many of these facilities to know bank balance. Next paragraphs in article will explain in detail steps.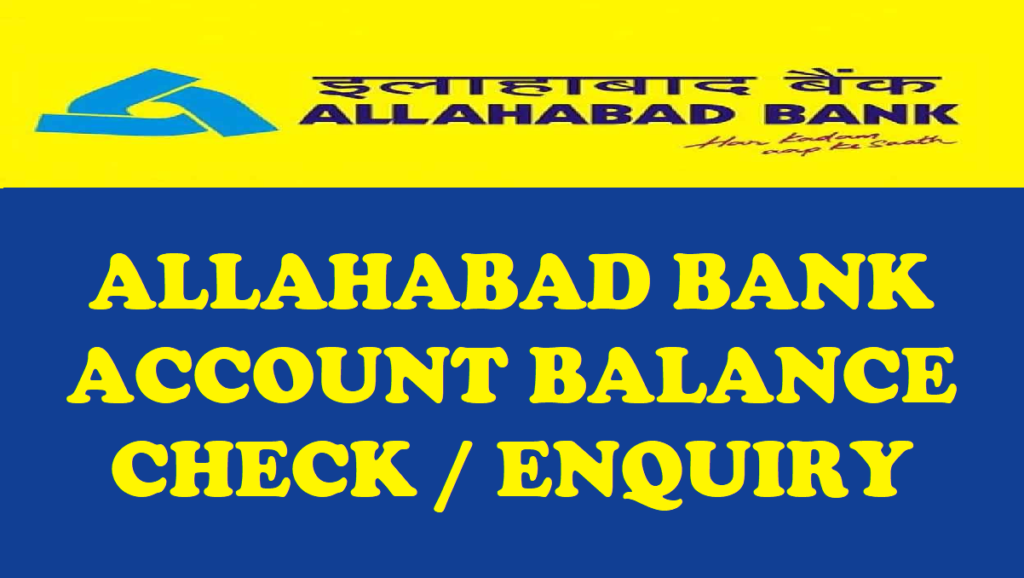 In general, we will check the balance in account. To plan and manage expenses. It important for everyone to organize and plan financial transactions. To do so, we should know the debit, credit transactions and balance. Below are the ways you can know your Allahabad bank balance check.
Allahabad Bank Miss Call Number
Bank provides missed call banking service to customers. It is a facility. Through which customers can dial a particular number. From registered mobile number to utilize the facility. It is that simple and handy to customers. Likewise customers can give a missed call to get account balance. Register your mobile number to Allahabad bank account (Only for the first time). Give a missed call to below numbers. From registered mobile number. The call will dismiss automatically. Your account balance will send to RMN through SMS. Allahabad account balance check missed call numbers are below.
| | |
| --- | --- |
| Facility | Mobile Numbers |
| Allahabad bank balance check missed call number | 8108781085, 09224150150, 9223150150 |
Via Bank SMS Banking Facility
This Bank also provides SMS banking facility. Through which customer can send a SMS. From registered mobile number. To know balance, last five transactions, etc. To avail this facility. Customers should link mobile number with bank account. While sending SMS, customers should follow a certain format. The format and number are below.
| | | |
| --- | --- | --- |
| Facility | Format | Number |
| Account Balance Check | BALAVL <Ac no> <MPIN> | 9444394443 |
| Last Five Transactions | LATRAN <Ac no> <MPIN> | LATRAN <MPIN> (For primary account) | 9444394443 |
Allahabad Bank Balance Check Online
Now a days, most of the people are using internet banking. You will get mostly all the facilities and services. It is like bank is in your hands. Yes, there is no exaggeration about it. To avail the feature. Customers should fill a form and submit in bank branch. Once you register in net banking facility. You can login with User id and password. Click on the Check Account Balance Tab on Bank Dashboard.
Mobile Banking APPS
These is no exaggeration in saying that "Can find people with no money, But not without phone". You can check Allahabad bank account balance in mobile. Is it? Yes, you can with the help of mobile banking apps. Allahabad bank has banking apps in both Play store and App store. To support android and IOS mobiles. Customers should register for mobile banking facility. Allahabad bank has multiple apps providing mobile banking are below. Login to application to check account balance.
Allahabad Bank mPower:
AllBank m-Power+
BHIM App
Check Balance with Allahabad Bank passbook
If all the above methods. Didn't worked for you. Don't worry. Still, you have the one more option left. Visit any Allahabad bank branch nearby. While going take bank passbook with you. Ask the bank executive to print the transactions in passbook. It is a free service. To need pay for the service. After it got printed. You can check all the debit and credit transactions. At the end of the list. You can find the present account balance.