Dena Bank User id for net banking. Find customer id by Dena Bank Customer care number 2023. CIF Number in Passbook, Cheque, account statement.
Hello friends, Do you have the following questions. How to find Dena Bank customer id for net banking. Where to get Dena customer identification number? Forgot Dena net banking user id? Then you are in the right place today. Answers to the above questions will be revealed soon. Today we will guide you to know Dena bank customers for mobile banking also. Let us get into the topic.
Dena Bank User ID
Dena bank is a public sector bank in India. It was founded in 1938 and its headquarters is in Mumbai. Dena bank has more than a thousand branches all over India. Dena Bank and Vijaya bank amalgamated with Bank of Baroda from 1st April 2019.
Customers can enjoy a lot of financial services from Dena Bank. Dena Bank also provides mobile banking and net banking services. With the help of these services. One can make transactions anywhere and at any time. No need to visit the Dena bank branch. To make money transactions and to know the account balance, etc. To utilize net banking services. Every customer should have a Dena Bank net banking user id. Which is nothing but the Dena customer identification number.
Dena Bank Customer ID
Cust ID is a unique number for every saving/current account holder. A customer having multiple accounts will have a single customer id. It is helpful for banks to track transaction history. Bank will get to know the profile of the customer with CIF (Customer Information File). Note that Dena's CIF number and Customer id are the same. It is used as a User ID for the Dena Netbanking portal.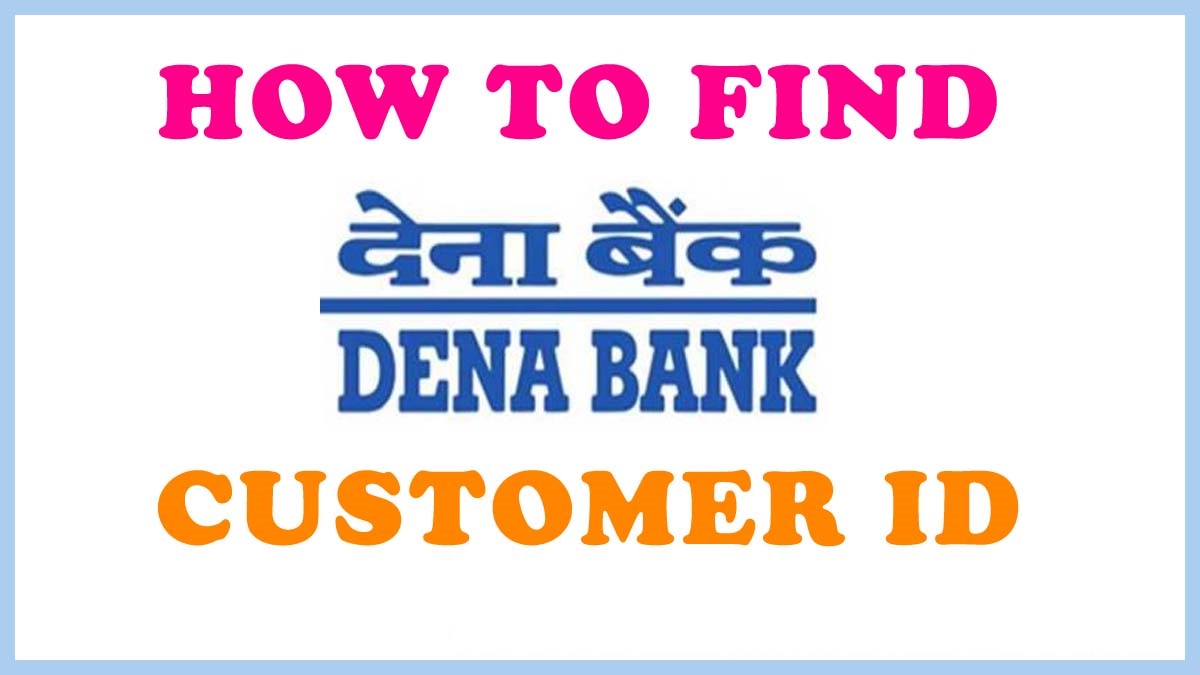 Methods to find the Dena bank Customer ID are below:
Dena Bank Net Banking User ID
Customers should apply to avail Dena net banking services. The process to know Dena Net Banking User ID is as follows:
Firstly, the Customer should visit the Dena bank branch. Ask application form to apply for net banking facility.
Secondly, Fill the application with correct and appropriate information. Hand over the application form to the bank executive.
Thirdly, It will take a couple of working days to complete. The bank manager and higher authority should process the application to enable a net banking facility.
Finally, Once the process was completed. The customer will get the Dena Bank User ID/Customer ID for net banking. Also, It will be sent to the registered mobile number. The official net banking page Dena iConnect denaiconnect.denabank.co.in.
Dena Bank

Customer Care
Dena Bank also provides customer care service. Customers can call the Helpline number to avail the service. Call the Dena Bank Helpline number 18002336427. From Dena bank registered mobile number. Ask for the Dena Bank Customer ID. Then the person might ask some questions for verification. Give the correct information to them. After that, the executive will help you to find the Customer id.
Dena Bank Customer Care Number : 1800-233-6427
Dena Bank CIF Number in

Bank Documents
Some of the banks will print bank customer id in bank documents. So, You might be able to find Dena Customer id in the passbook, cheque, welcome letter, and account statement. Post creation of net banking account. Bank will send a letter to the customers. In that net banking letter, the Customer ID will be present on the page.
By Visiting Bank Branch
Still, if you are facing any challenges. This is the most effective way. But it needs some time and effort. Visit any Dena bank branch. Ask the bank executive for your customer id. They might ask for some information to authenticate your account. Provide the correct information. The Dena bank executive will help you to get the user id.
Frequently Asked Questions
What is the new name of Dena Bank?

After 2019. Dena Bank was merged into the Bank of Baroda. Dena Bank's new name is Bank of Baroda.