Fast online and offline ways to check Indian bank Account Balance. Indian Bank Balance Check Number, SMS, ATM, Online, Toll free, Mobile Banking, Net Banking. 2023 Indian Bank Balance Check Through Missed Call
Indian Bank
The Indian citizens can easily manage their wealth by banking with famous, reliable banking and financial sectors such as the Indian bank. The Bank has expanded since 1907 as it currently serves over 100 million customers having 39734 employees. It is easily accessible and reliable, having 5721 branches, 5428 ATMs, and cash deposit machines.
The Indian bank provides various services to its customers, including checking their bank balances. Most people are always frustrated by long queues and are reluctant to visit the bank. Indian bank has developed simple online and offline services to solve the long queues and tiresome procedures. Today registered members can check their bank balances through mobile and computer devices.
Indian Bank Balance Check Number
+91 8108781085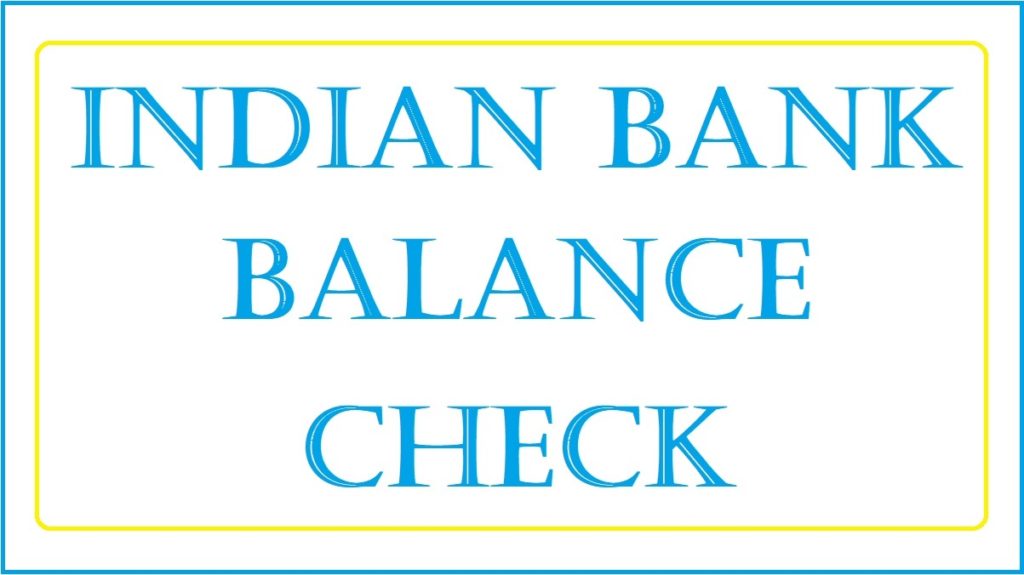 Importance of Checking Your Indian bank account balance
Account balance helps user plan their finances better.
The balance gives an insight into what and how to spend.
The available amount allows users to check for any fraudulent activities.
Ways of Checking Your Indian Bank Balance
Through:
Email
Official Indian Bank INDOASIS app
Net banking portal online
Missed call
Mobile banking
UPI app
Passbook
E-Statement
SMS
Indian Bank Balance Check Through Email
Provided you have a registered email ID, emailing is a simple and quick way to check your bank balance. Send your email to rtgs@indian-bank.com. Containing information about your bank balance enquiry.
How to Check Indian Bank INDOASIS app
This app provides banking services like a mini statement, checkbook request, and bank balance enquiry. Below are simple steps to follow to check your bank balance.
Go to your Play Store or App Store and install the INDOASIS app.
Click on the allow button, then proceed and tap the registration button.
Confirm the registered mobile number after an sms has been sent to you.
Click on the activation account and confirm the OTP sent to your mobile number.
Key in the passcode details sent by the debit card or the bank.
Click on the debit card details and log in with the MPIN logging password and MTPIN transaction password.
You will now gain access to the app to check your bank balance as your account will be activated.
Sign in to your Indian Bank account and proceed to the account summary section to check your bank balance.
The bank balance will show on your screen.
Indian Bank Balance check Through Net Banking Portal Online
For convenient transactions, net banking allows for multiple banking services. It's easy to check one's bank balance through the following process;
Log into the official website of Indian bank net banking through https://www.indianbank.net.in/
Tap the login button and key in your user ID (CIF number on your passbook).
Key in your bank account password and press the login button.
Enter the My Account section and tap on the account summary button.
You will view your current account balance.
Indian Bank Balance Check Through Missed Call
Sending missed calls is the easiest way of checking your bank balance. The service is available throughout, making it easy to avail various services. To check your bank balance through missed call service, you should;
Ensure that your mobile number is registered with an Indian bank.
Contact the Indian bank through +919289592895
The phone call will automatically disconnect after a few rings.
The bank will send a message to your registered mobile number containing your account's balance information.
Indian Bank Balance Check Mobile Banking
To check your bank balance using mobile banking, follow the following steps;
Proceed to your Google Play Store or the App store.
Download either BHIM IndianBank UPI, IndPay, or IB Smart Remote app.
Install the app
Sign in and click on Manage Accounts
Tap on view statement and send a request
UPI APP
Enter your preferred UPI app on your mobile phone.
Key in the code you have set.
Select the account you want to check your balance.
Press on check balance.
Key in the UPI pin you have set.
You will view your current account balance on your screen.
E-Statements
Log in to the official website of Indian bank e-statement via https://apps.indianbank.in/emailstatement/
Key in the Indian account number and captcha code
Avail your bank e-statement and confirm your current bank balance
Indian Bank Balance Check Sending SMS Method
Bank balance enquiry through sms is more favourable for offline people. The account holder needs to send an SMS to 9445394443 containing BALAVL, your account number, and MPIN following one another.
Register for Indian Bank Balance using SMS
Steps to follow to register for Indian Bank balance using sms
Go to the nearest Indian bank branch,
 Fill out and submit the Indian bank SMS registration form.
Tick the checkbox and key in your mobile number for other mobile banking services.
Submit the form to complete the registration process.
FAQ's
What are some of the methods of checking your bank balance?

You can check your bank balance using online and offline services like net banking, mobile banking, missed call services, and many more.