ICICI Mobile Banking Registration and login process. Activate ICICI Mobile Banking. ICICI Mobile Banking Registration 2024, and ICICI Mobile Banking Login Process.
ICICI Mobile Banking
The Digital era helps decongest banks and financial institutions by providing online services through electronic gadgets. It's easy to access your banking services through mobile and computer devices anytime. The connection is convenient, fast, and secure as users can transfer funds electronically. The online system has also eliminated the need to carry cash or visit bank branches.
Mobile banking apps are significant and offer services through mobile phones. Most apps are compatible with all operating systems. Mobile users can operate multiple financial transactions using a smartphone without any help. The ICICI bank supports the digital move by enhancing quality banking services through ICICI iMobile app.
The mobile app provides all banking services using an internet connection. ICICI bank registered customers who need to operate through mobile phone, need to register for mobile banking app as discussed in the guide.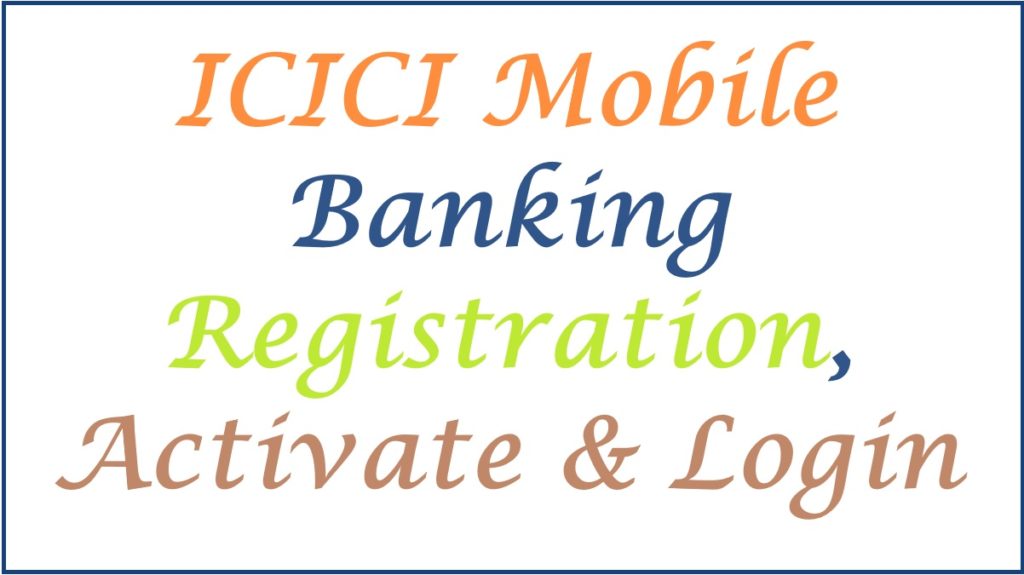 Required Details for the ICICI Mobile Banking Registration 2024 process
Registered mobile number
Debit card details
Benefits of ICICI Mobile Banking APP
The mobile app has a simple and friendly user interface.
Easy login process through biometrics or login credentials
ICICI mobile app is safe and convenient to use.
The user can transact anytime without limitations
Simple operational features.
Services Available on ICICI Mobile Banking APP
Once a user registers, they can enjoy the following services:
Fund transfer services through different modes such as IMPS, NEFT, and RTGS.
Forex services
Account balance check
Access account and credit card statement.
Applying and managing credit cards
Block and unblocking credit and debit cards
Requesting for cheque book
Checking and paying credit card bills
Mobile and DTH recharge
Ticketing
Utility bill payment
Eligibility Criteria
The account user must have the following criteria:
The applicant must be an active accountholder in ICICI Bank
The mobile number should be registered with the bank
ICICI Mobile Banking Registration
How to register for ICICI mobile banking service
Open your smartphone (Android or IOS) browser and search for ICICI mobile banking app (iMobile app).
Select the correct app and click the download tab to start the process.
Next, select the install and open tab to allow the app permission request. The app will request several verification details.
Proceed and click on the "I already have an account" button and select the "activate" option.
A new page will open click the "SIM card" registered with the ICICI bank.
Select "verify mobile number" to initiate the process through SMS.
The system will authenticate your mobile number to continue.
Enter your ATM card and PIN or key in the credit card PIN to activate the mobile banking app.
Review the details and create an app login PIN. The app also allows for fingerprint verification as a login credential.
The bank system will authenticate the information and save the PIN.
A confirmation SMS will be sent to the registered mobile number. Now the user can operate any ICICI service using their smartphone.
ICICI Mobile Banking Login
Login process on ICICI mobile banking app
Open the iMobile app on your mobile device.
Key in your login credentials or enter the fingerprint to log in.
The app will open proceed to the dashboard section to access any service.
Also read How To Add Nominee in ICICI Bank Online (3 Ways)
FAQs
Do I need internet banking to operate mobile banking app?
No, one can opt to have both or one since they are separate ICICI banking services.
Is ICICI mobile banking app available on IOS?
Yes, the ICICI bank mobile banking app works with all operating systems to accommodate all customers.