Few ways to to Set ICICI Credit Card Pin. ICICI Credit Card PIN Generation process, Using Net banking, Mobile banking (Imobile app), ATM.
ICICI Bank Credit Card Pin Generation
PIN and password details are personal secrets that manage financial accounts. Banks allow customers to create login credentials to ensure each client designs unique details. The secrecy also helps avoid fraud or data leaks unless the account user exposes the data. Banking facilities such as debit cards, credit cards, net banking, mobile app, and account require a login PIN. All banks have precise guidelines about the PIN and password settings for safety.
In the past, banks sent credit card PINs through mailers where the user scratched to reveal. Today the cardholder can create their preferred PIN without restrictions. It's a great way to fight card fraud and keep information secure. The ICICI bank, a leading banking and service provider in India, has developed various ways to operate online.
Cardholders and other service users can develop login credentials anywhere, anytime. Credit card users can use net banking, mobile banking or website portals as digital ICICI bank services. However, the bank maintains manual services such as visiting the bank branch or calling customer care for the same services.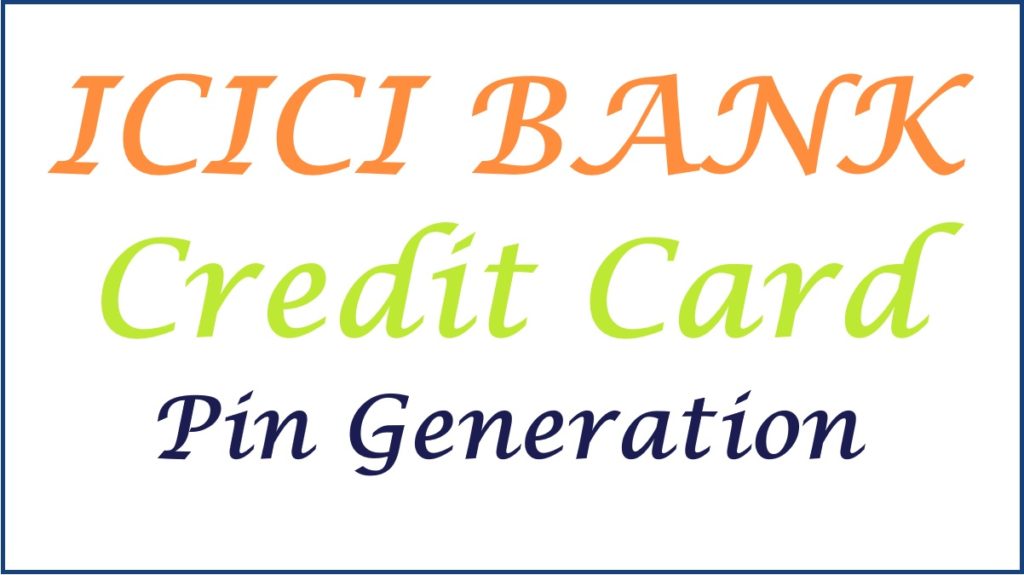 Methods to Generate ICICI Credit Card PIN
To activate the ICICI credit card, the user needs to create a login PIN. Once designed, the card is operational and available for all bank services.
Through ATM
By calling customer care
Using internet banking service
Through mobile banking app.
ICICI Bank Credit Card Pin Generation Using Net banking
How to Generate ICICI Bank Credit Card PIN Using Internet banking
Open the ICICI net banking web page. https://www.icicibank.com/personal-banking/insta-banking/internet-banking
Next, open the login page and key in your username and password.
Select "generate PIN/ generate debit/credit card OIN" option.
Press generate now option under the credit card section.
Choose the card's number, CVV and registered mobile number.
Recheck the details and select submit tab.
Key in the OTP sent to your number to authenticate the details and click submit tab.
Now, create a four-digit PIN and re-enter to confirm.
Review the PIN and select generate now option.
The system will send a confirmation SMS about the PIN.
How to Generate ICICI Credit Card Pin using Mobile Banking APP
Step by step to get ICICI credit card PIN using a mobile banking app
Open your iMobile app and enter the MPIN to log in.
Select the "services", "cards services and click the "generate credit card PIN" options.
 Choose the card you wish to get the PIN and enter the required details on the page.
Recheck the information and select the continue button.
Next, create a strong PIN and re-enter to confirm the details.
Review the information, and if okay, press submits button.
The app will show a confirmation message on your app.
Download android link
How to Get ICICI Credit Card PIN Using ATM
Visit the ICICI ATM and insert your credit card.
Choose your language on the machine to proceed.
Next, choose "create PIN" using OTP.
Enter your registered mobile number with ICICI bank.
An OTP will be sent, enter the code on the machine to verify and proceed with the PIN generation process.
Now, create your preferred PIN and repeat to confirm.
The bank will save the details and send a message confirming the information.
How to Set ICICI Credit Card Pin by Calling Customer Care
Generating ICICI Bank credit card PIN by calling customer care.
Using the ICICI registered mobile number, call the customer toll-free number 1860-120-7777.
The IVR machine will receive your call, enter your language to continue.
Enter your PIN generation request.
The bank officer will verify your details and help set the credit card PIN.
Also read How to Get ICICI Credit Card Statement Download
FAQs
Can I generate my credit card PIN using a new number?
No, the user must use their registered mobile number when creating a credit card PIN or other bank services. The bank uses the number to send OTP and verify data before saving or making any changes.
Can I create the same PIN for my credit cards?
Yes, a user can have the same PIN for their credit cards. However, it's not safe in case fraud occurs.